"It's not about having ideas. It's about making them happen. "
- Scott Belsky -
In the year of its 60th anniversary, RIO YACHTS, historic Italian excellence, presents a new yacht synonymous with freedom and luxury: DAYTONA 50.
The DAYTONA range, which started in September 2020 with DAYTONA 34, a hugely successful model that after just a few months from being presented at Genoa's Boat Show sold the entire production of the season, meets the new demand for practical and sporty open boats, suitable for short-distance cruising, with preference for space above rather than below deck and dynamic and fun performances.
DAYTONA 50, RIO YACHTS' latest interpretation of this trend, is the work of one of Italy's most talented designers, Marino Alfani, who also curated the concept, design, and interior, and even collaborated with the boatyard technical department on engineering aspects.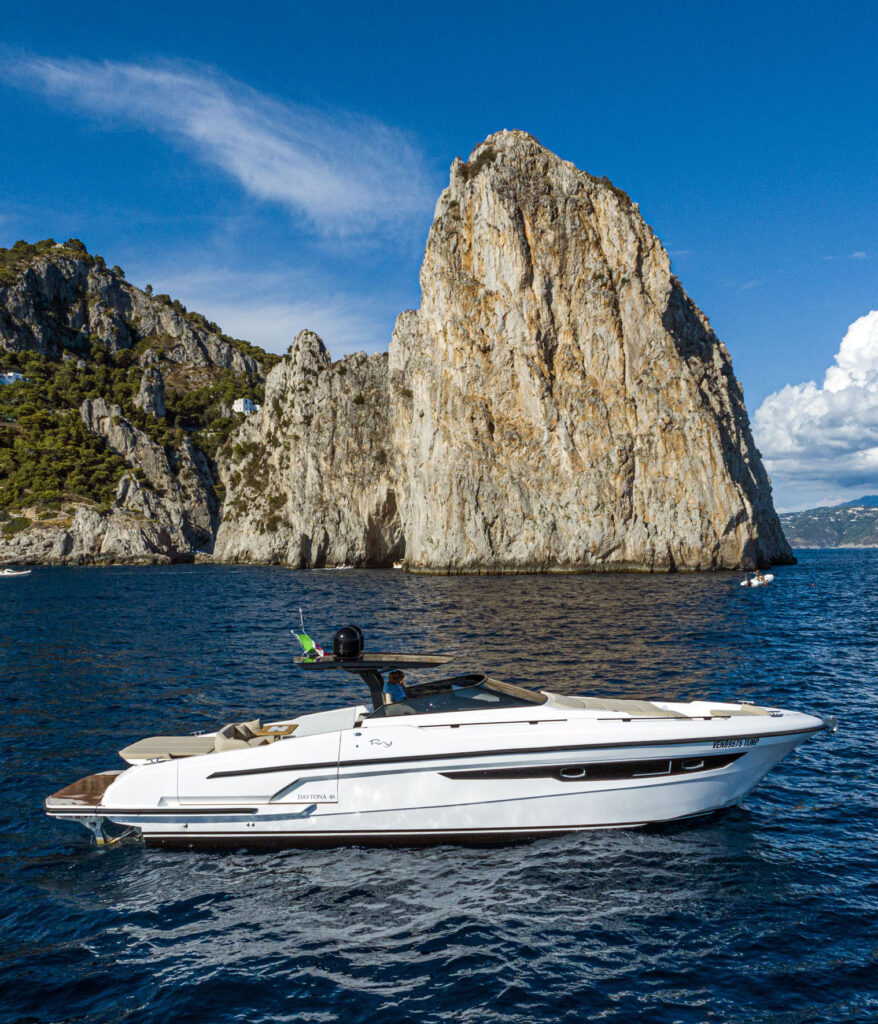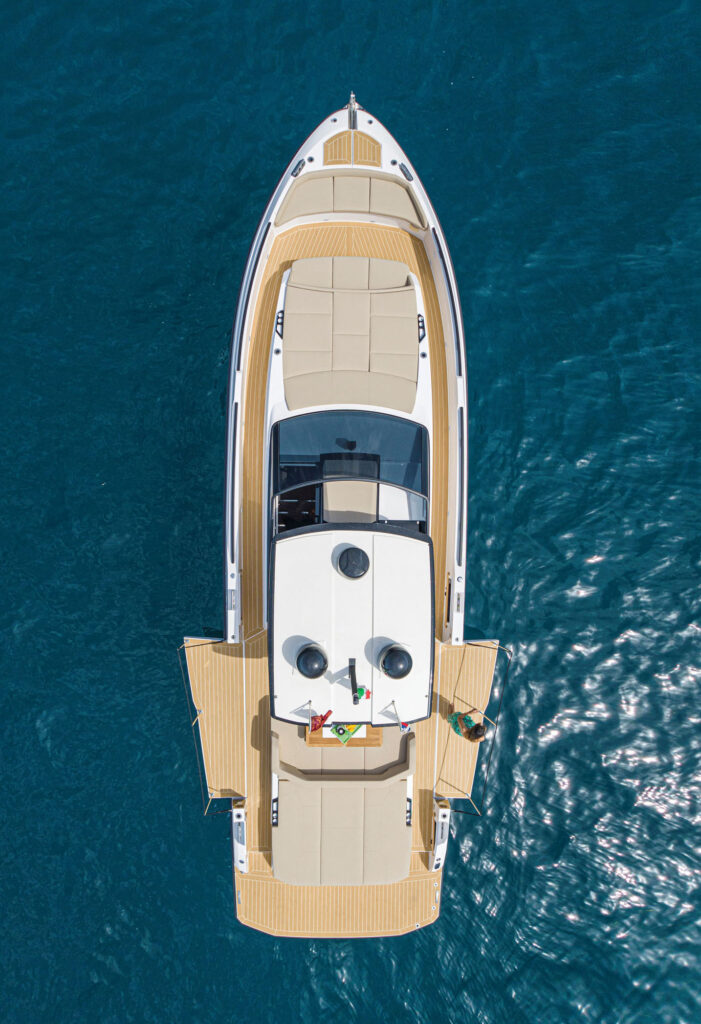 Its main characteristics include walk around deck and central console, maximum space on board thanks to a boundless cockpit, total safety, and ease of movement above deck: a boat designed to socialise, enjoy, and relax.
A 15-metre yacht that offers a brilliant and fun performance, able to reach a maximum speed of over 40 knots, with the option of either 3 outboard or 2 inboard Diesel engines.
The lines are clean and symmetrical. The wraparound wind shield offers perfect visibility. The sleek bow reflects the strong personality of the design.
The spacious cockpit has a generous stern sun deck under which there is space for a tender. The bathing platform, spacious even on the version with the outboard engines, can be fitted with a tenderlift and two amazing large terraces can be opened both on the right and on the left, adding substantial space to the already impressive cockpit and providing a unique connection with the water. The table in the cockpit can easily accommodate six people and is completely concealable. Midship, a spacious open-air galley separates the cockpit from the highly technological, functional, and practical helm station, covered by a convenient, sporty, and light Bimini with just two supports (instead of the usual four featured by the competition), yet extremely stable, which offers generous coverage. The addition of an electric cover from the Bimini and two shades at the bow and the stern offer plenty of options to manage sun and shade as required.
The walkway to the bow is wide, practical, and safe. A two-seat sofa is just a few strides away, opposite the sun lounger on the deckhouse.
The interior is open space, bright and finished with great attention to details. If needed, when guests are on board, the cabins can be divided thanks to a mobile partition, creating privacy and exclusive comfort. The materials, which can be personalised by the owner, are the expression of the highest level of quality that only Made in Italy can provide.
All you have to do is... get on board!
Lenght                                   14,90 m
Omologation Lenght         12,94 m
Beam                                     4,30 m
Draft                                       0,70 m
Hight from bimini                3,21 m
Loaded weight                      t 13.8
Empy weight                         11,00
Fuel tank                               1.600 lt
Water tank                           430 lt
Black water tank                100 lt
Persons                                   12 p.
Beds                                       4 
Bathroom                              1
Omologation CE                  B
Designer                                Marino Alfani
ENGINES
Brand                                                   YANMAR
Model                                                   8 LV – 370
Power                                                   3x370HP (3x272Kw)
Transmission                                         EFB
PERFORMACE
Max Speed                                           35-40
Cruising consumption l/h             30
Cruising consumption                    130 l/h
Cruising autonomy NM                    300
Cruising autonomy hours                hours 10
ENGINES
Brand                                                      MERCURY
Model                                                      R450
Power                                                  3x450HP (3x332Kw)
Transmission                                        FB
* datas refer to the testing conditions and are indicative
Don't hesitate to contact us to receive more information about our yachts or the services that we offer.