"Fun is inexhaustible, seriousness is not."
- Jean Paul Richter - 
LE MANS 45 is the new interpretation of RIO YACHTS, inspired by the famous DAYTONA line.It retains the main features of this successful line: walkaround with wide passages in the bow, maximum space on board, unlimited cockpit, ease of movement and safety.
It also features a crystal dome that wraps around the cockpit, providing extra protection. This boat is designed to offer a convivial, pleasure and relaxation experience, all with a strong personality and grit.
Her sleek and symmetrical lines offer brilliant and entertaining performance, with a top speed that exceeds 42 knots. Customers have a choice of outboard engines, cleverly hidden in the garage, or inboard engines to suit their preferences.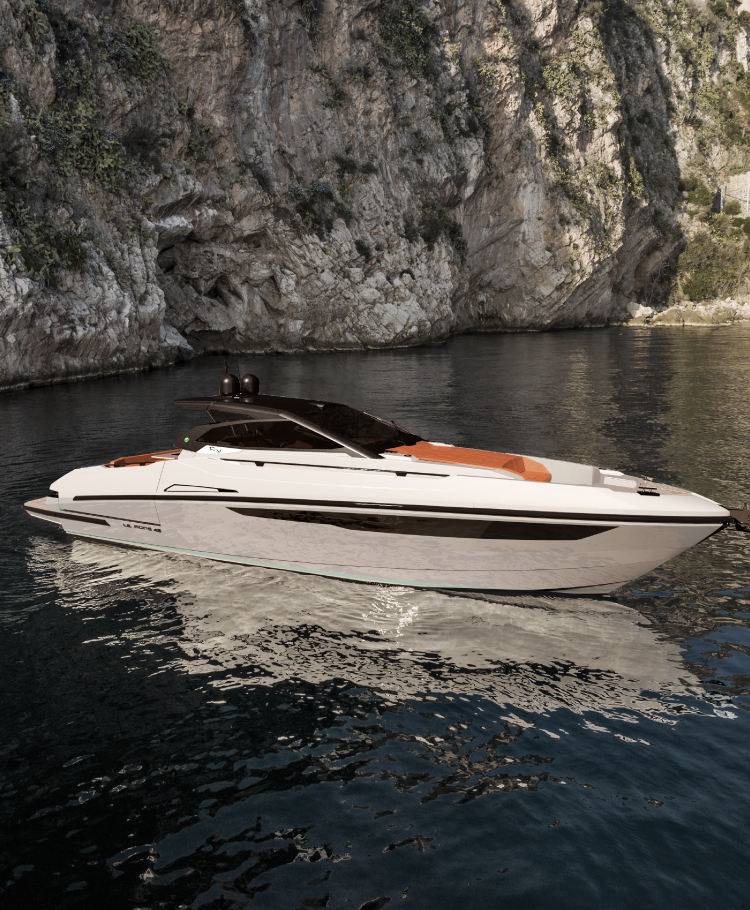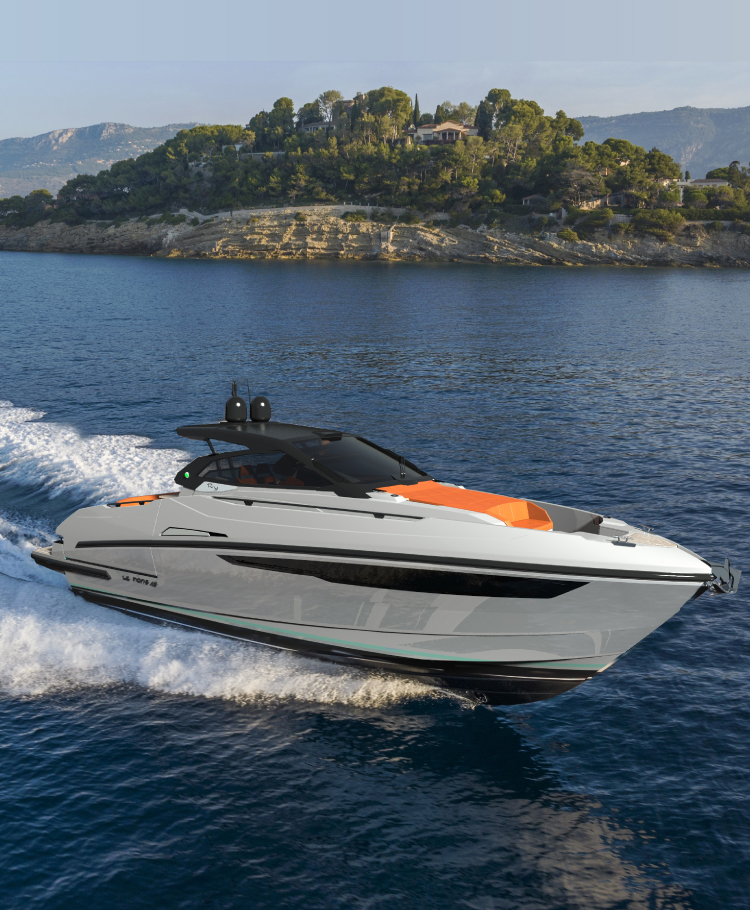 PERFORMANCE & GLAMOROUS STYLE
LE MANS 45 is a 13-meter-long yacht designed to offer an extraordinary marine experience. Her spacious cockpit is transformable thanks to two large balconies that allow you to connect with the sea and the surrounding nature. Here you will find a generous sundeck, a tender garage, and flexible seating that allows you to customize the layout in minutes, creating a large sofa around the fixed table
The helm station, featuring modern technology and design, is flanked by an outdoor galley, ensuring total comfort. The forward passage is spacious, comfortable and safe, leading quickly to the opposing double sofa on the bow, next to the sundeck on the deckhouse
The interior, designed by the renowned SY DESIGN studio, is bright and represents a smart, multi-use open space. The two cabins offer four berths, accompanied by a well-designed bathroom. The distribution of space is exceptional for a 13-meter boat
LE MANS 45 is completely Made in Italy, designed to share convivial moments, pleasure and relaxation in total safety. This boat is expertly crafted by the skilled hands of our artisans to meet the needs of quality and detail-conscious owners. 
THE STERN DRIVE ENGINES
Length                                                       13,70 m
Approval Length                                     11,95 m
Beam                                                          4,10  m
Draft                                                            0,70 m
Height above water with radome        3,60 m
Height above water without radome  2,90 m
Dry weight approx                                   12.000 kg
Fuel tanks                                                  1.200 lts
Fresh water tanks                                   300 lt
Total crew capacity                                  12 p.
Accomodation                                          4 
Nr. bathroom                                             1
CE marking                                                B
THE STERN DRIVE ENGINES
Turbodiesel                      YANMAR
Type                                   8 LV – 370
Crankshaft power           2 x 370 HP (2 x 272 Kw)
Cylinders                            8 V
Displacement                  4.460 cc
Rated speed                    3.800 rpm
Weight                                     2 x 570 kgs 
Max speed                         38*
Cruising speed                32*
Medium Consump.        120* l/h coppia
THE OUTBOARD ENGINES
Brand                                 MERCURY
Type                                   Verado 400
Crankshaft power           2 x 400 HP (2x 298 Kw)
Cylinders                            10 V
Displacement                  2.600 cc
Rated speed                    5.800 – 6.400 rpm
Weight                                2 x 320 kgs 
Max speed                         44*
Cruising speed                32*
Medium Consump.         180* l/h coppia 
YACHTING HAUTE COUTURE ATELIER
RIO YACHTS offers owners the opportunity to customize their boat in a unique and exclusive way, so as to adapt their models to the requests, desires and style of the customers: just like a tailor-made suit, the owner is joined by a section of the company dedicated exclusively to "custom editions" and guided in the choice of every detail. Nothing is left to chance.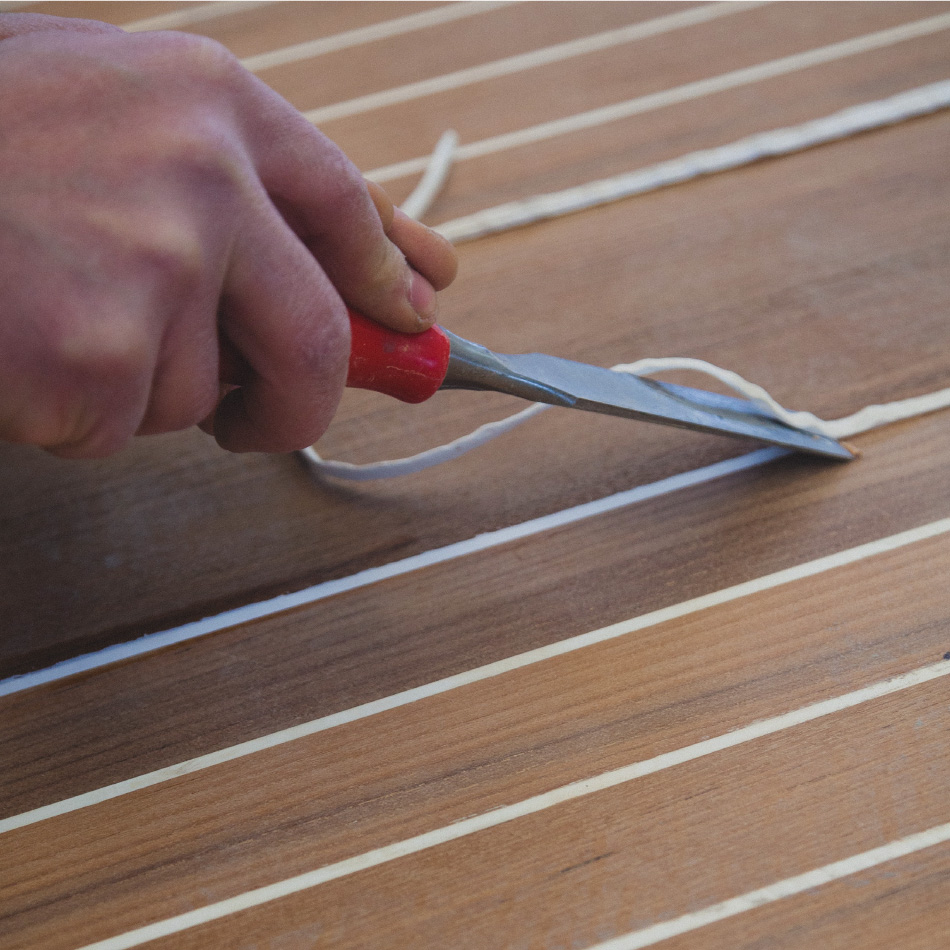 Don't hesitate to contact us to receive more information about our yachts or the services that we offer.